Description
Rapsodo Callaway RPT ball – 12 balls
A NEW SPIN ON TRAINING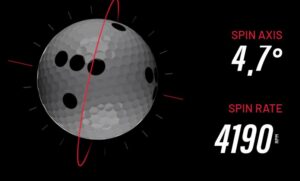 A partnership that drives spin tracking.
Accurately measure your spin with Rapsodo Precision Technology (RPT) golf balls. The custom designed Callaway® RPT™ Chrome Soft X® Golf Balls deliver the ultimate indoor golf experience by providing spin measurements within 1% of the accuracy of high-priced launch monitors.
Engineered for Accuracy
Custom designed RPT™ Golf Balls were developed specifically for the MLM2PRO™ Impact Vision camera. The camera recognizes the RPT™ print pattern and captures images at 240 fps for pro-level spin rate and spin axis measurements. It's a partnership in precision engineering.
RIGOROUSLY TESTED FOR OUTSTANDING PERFORMANCE
To ensure your Rapsodo MLM2PRO™ provides accurate spin rate and spin axis measurements, strict tolerance standards are enforced on the print pattern. Callaway ® RPT™ Chrome Soft X® Golf balls must pass a quality assurance test to ensure the print pattern is within .5MM (.019 inches) or less of the standard.
PERFORMANCE OVERVIEW
Driver
Speed
Fastest
Launch
High
Spin
Low-Mid
Iron
Launch
Mid
Spin
Mid
Wedges
Full Shot Spin
Highest
Greenside Spin
Highest
FAQs
What is Spin Rate and Spin Axis?
Spin Axis – the axis that the ball spins on or the measure of the tilt of that axis. A positive Spin Axis means that it is tilted to the right (a slice or face for RH golfers). A negative Spin Axis means that is it tilted to the left (a draw or hook).
Spin Rate – A golf ball's spin rate — refers to the speed that it spins on its axis while in flight. It is measured in revolutions per minute (rpm).
Why is measuring spin important?
Spin rate has a major influence on the height and distance of a shot. Having a high spin rate will "lift" your ball up to the sky, creating a lot of height and a steep landing angle. Having a low spin rate will typically make the ball "fall" out of the sky, creating not much height and a shallower landing angle.
Are Callaway® RPT™ Chrome Soft X® Golf Balls the same as Callaway Chrome Soft X Golf Balls?
Yes, the golf ball make-up is the same. The RPT™ pattern printed under the clear coat on the Callaway RPT balls allows for MLM2PRO™ to accurately track spin rate and spin axis.
How are spin rate and spin axis measured? 
When MLM2PRO is paired with the specially engineered Callaway RPT Golf Balls, the in-flight spin rate and spin axis of the ball is measured. MLM2PRO comes equipped with two high speed cameras for optical tracking. "Impact Vision" is a 240-fps high speed shutter camera that captures a series of photographs to measure the spin rate and spin axis of Callaway RPT Balls.
Are Callaway RPT Balls included with purchase of MLM2PRO?
Yes, three Callaway RPT Golf Balls are included with the initial purchase of every MLM2PRO.
Will I get spin rate and spin axis if I use a regular golf ball instead of the Callaway® RPT™ balls with the MLM2PRO? 
Callaway® RPT™ Golf Balls are required to show measured spin numbers.